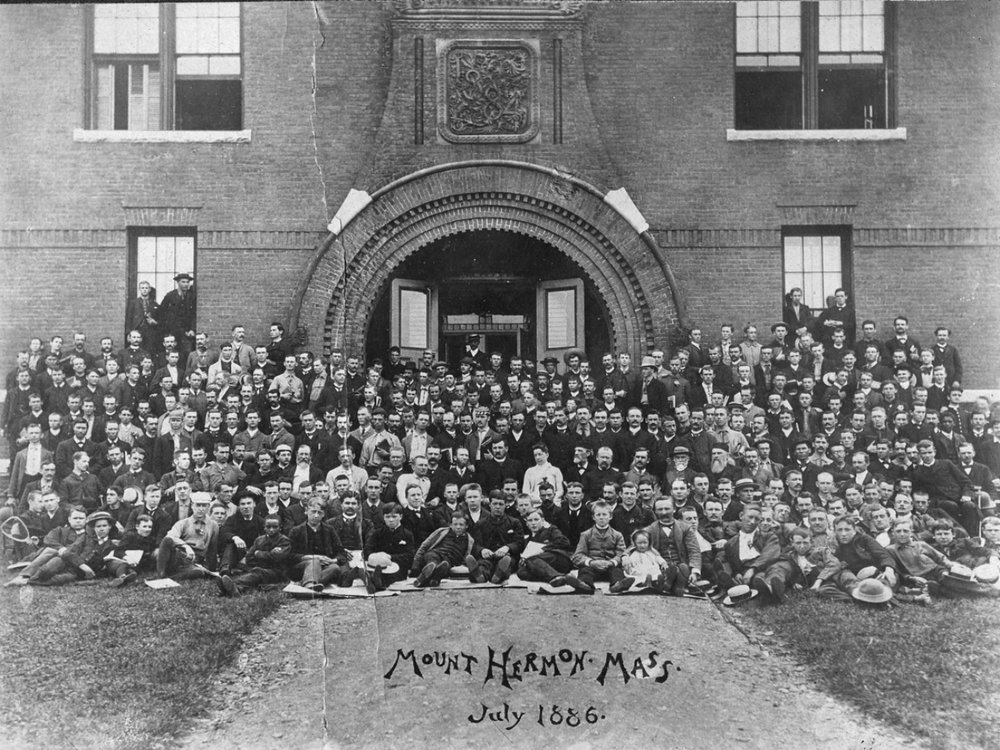 In the 1880s young people in colleges in America banded together and began to pray. One group consisted of three young men in Princeton University. They prayed that the Lord would somehow open people's hearts to the need to go as missionaries into the world. Their group covenanted together with this intent: "God permitting, we will go as foreign missionaries." One of these, a son of a former missionary to India, was named Robert Wilder. He and his sister, Grace, had been greatly burdened for a missionary movement from the universities of America to break out. Robert Wilder, Grace Wilder, and other burdened students prayed fervently for widespread missionary fervor to grip college students of America. Candles of prayer continually burned during the long lonely night watches of this breakthrough company. In essence they were praying Matthew 9:38. What they didn't know was they had become an "upper room" for the birthing of missionary zeal in what was soon to be known as the Student Volunteer Movement.

In the summer of 1886 the first interdenominational, international Christian student conference ever was held, hosted by the well known evangelist D.L. Moody. The conference hosted two hundred fifty one college students from eighty-nine colleges and universities, including Robert Wilder from Princeton University, and was held on the Northfield College conference grounds in Mt. Hermon. Though world evangelization was not supposed to be a topic of the conference, Wilder and Grace pressed the issue. Wilder convinced a man named A.T. Pierson to give a bold, missions message. His title was "All should go. And go to all." Following this, Wilder went directly to Moody and asked for permission to gather ten students to hold a session on "the forgotten peoples." Those ten students each had three minutes to share. This ended up being the climax of the whole event resulting in further missions messages being preached.

On the final day, Robert Wilder gave a missionary challenge and an aggressive appeal for personal commitment. All in attendance were deeply moved. Wilder sought to keep track of the commitments made by asking the small assembly to write a declaration similar to that which he and his friends had covenanted to keep a few years before. It stated:
"We, the undersigned, declare ourselves willing and desirous, God permitting, to go to the unevangelized portions of the world."
At the end of the conference, ninety-nine men had signed what was known as the "Princeton Pledge." In the very last meeting of these student volunteers, the one hundredth volunteer slipped in, knelt and signed the pledge. These men became known as the "Mount Hermon One Hundred." The meeting was the beginning of the Student Volunteer Movement for Foreign Missions.
Both Robert and Grace Wilder took off for college campuses around the country in order to spread the message. At this time, Wilder's father was on his deathbed, causing Wilder deep misgivings. He was about to back out of the circuit of mobilization he was committed to, but his father called him to his deathbed and released him, saying, "Let the dead bury the dead. You go and preach the Kingdom." Within twelve months, traveling by train, Wilder had visited one hundred sixty-two campuses and received the commitments of two thousand one hundred and six students to volunteer for missions. Five hundred of them were women, remarkable for that day.

The Student Volunteer Movement was arguably the most potent force for missions we have ever known. In about thirty years' time, one hundred thousand had committed themselves. Eighty thousand young people met together in small groups on a regular basis, actively praying for global evangelism. Twenty thousand volunteered to go overseas (and actually went), while the other eighty stayed home and formed themselves into a group called the Layman's Missionary overeat. This movement was composed of college graduates who went on to become the businessmen, lawyers, bankers, and doctors of the day. They met regularly to pray for those who had gone overseas, mobilizing large sums of money for their support.

At Grace Wilder's memorial service, Rev. Stanley White spoke of how God used her to start the SVM. "In closing I am privileged to mention what is known to but very few, namely, Ms. Wilder's relation to this Student Volunteer Movement...others are receiving the praise of this movement. We should not forget that God redeemed His promise of answering prayer, and that it was the faithful and effectual prayer of Ms. Wilder and her brother, which, humanly speaking began this work." Let me frame and elucidate the significance of this previous quote. The whole Student Volunteer Movement was birthed by one woman and her brother praying the radical prayer, "Lord of the Harvest, thrust forth laborers into the harvest fields." Here is one of the clearest examples of the extraordinary power of just a few praying this radical prayer. First, one hundred were ekballoed, which then led to one hundred thousand!

"A missionary movement which would evangelize the world in this generation must acquire great momentum; and this can result only in more Christians giving themselves to the ministry of intercession...The SVM owes everything to prayer. It was conceived in days and nights of prayer at Mt. Hermon. The missionary enthusiasm in which it called forth all over the student field had its springs in prayer." - John R. Mott